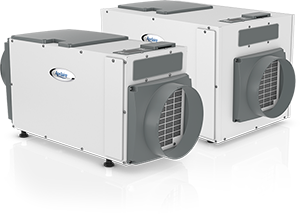 Upgrade Your Indoor Air Quality
Huber Heights, Ohio residents know all-too-well how humid it tends to get in the summer. When those days arrive, it has everyone wanting to go back inside to escape the humidity. But what if it's humid inside? According to the experts, the relative humidity level inside a home should be between 30% and 50%. As it gets higher, the home starts to feel uncomfortable and becomes unhealthy as it negatively impacts your Indoor Air Quality and hinders your air conditioner's efficiency.
If you're looking to decrease the levels of moisture in the air in your home, our technicians at Huber Heights Heating & Cooling are the Indoor Air Quality experts in Huber Heights, OH! We want you and your family to live in comfort, breathing the best quality of air possible. Give us a call today to schedule services!
Top 2 Benefits of Dehumidifiers

Improving Overall Health
Do you or your loved ones suffer from asthma or allergy symptoms? If so, you probably already know that too much humidity starts to intensify those symptoms. Why? Because high levels of humidity encourage the development and growth of mildew and mold, among other reasons, and that can cause illness in even a normal healthy person. Having a good dehumidifier like the ones we offer, however, improves your Indoor Air Quality by keeping humidity levels in check, which is a wise investment to protect you and your family's overall health.

Energy Savings
Dehumidifiers enable you to keep your thermostat setting a little higher while still allowing you to feel cooler. As a result, your energy needs will decline and this will give you a break on your monthly electricity bill. Furthermore, running your air conditioner less is actually better for the environment. Finally, because your air conditioner won't be working as hard to keep your home cool, it will prolong the lifespan of your system.
Choose Us, You Won't Regret it!
Here at Huber Heights Heating & Cooling we understand the importance of clean air in your home. We have solutions for every budget, and we can help you and your family experience a fresher home that makes breathing even easier. Using top of the line products and technology at affordable rates, our courteous service professionals are the most qualified in the HVAC field and strive to give you the best customer service experience possible.