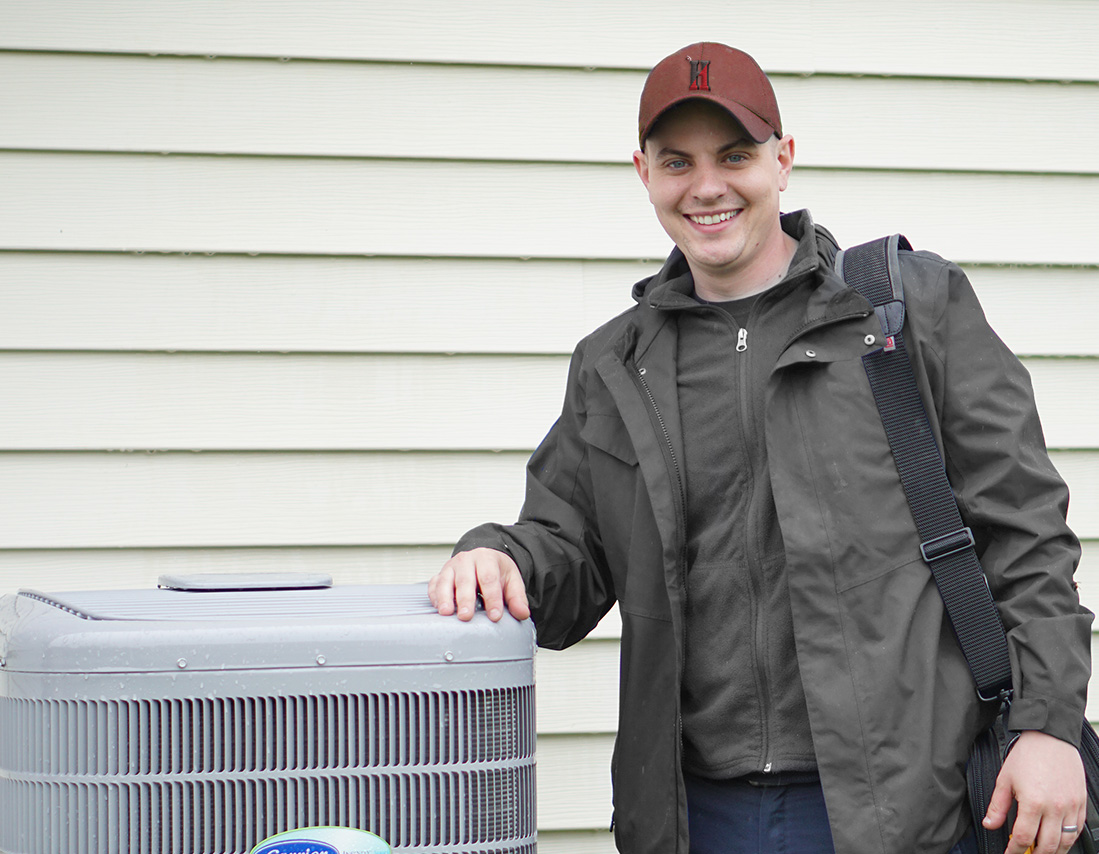 Over 45 Years of Experience with Cooling Systems
In our more then 45 years of experience, we've encountered homeowners who were concerned they might have brands or certain styles of Cooling Systems that we wouldn't recognize or be able to work on. We're happy to assure you that's never been the case. It doesn't matter what type of Cooling System you have, whether your AC unit is old, or brand new, our service technicians are trained in a wide variety of systems, and have a wide range of knowledge that they will use to diagnose and fix your Cooling System issues.
We service all brands of cooling equipment, including top brands like Carrier, American Standard, Amana, Coleman, Trane, Comfort maker, Frigidaire, Bryant, Gibson, Goodman, Heil, Maytag, Lennox, Rheem, Tempstar, York, and more. No matter what kind of Cooling system you have, no matter how old or rare it is, we are here to help.
Residential AC Services in Huber Heights, OH & Surrounding Areas'
Huber Heights Heating & Cooling offers a comprehensive range of heating and cooling services in Huber Heights, OH, designed to meet the needs of homeowners and businesses alike. Whether you need routine maintenance, emergency repairs, or new installation, our team of HVAC professionals has the expertise and experience to get the job done right.
AC Repair Services in Huber Heights
Is your AC lacking this year? We know that Huber Heights, OH summers can be hot, that's why we're here. We can repair any make or model of AC unit.

AC Maintenance Services in Huber Heights
When its hot outside, you don't want to leave your comfort at the mercy of an AC unit that needs maintenance. Here at Huber Heights Heating & Cooling we can maintenance any make or model of AC unit.

AC Installation Services in Huber Heights
We only install top-of-the-line HVAC Systems and equipment at Huber Heights Heating & Cooling. Let us help you get a new cooling system today!
3 Tips to Help Extend the Life of Your

Cooling System.
1. Scheduled Tune-Ups Twice a Year
A healthy HVAC system shouldn't require much maintenance, but that doesn't mean you should only call a technician when your system malfunctions. Routine checkups play an essential role in the life of your cooling system. To get the most  out of your cooling system you should schedule regular tune-ups twice a year with a qualified HVAC technician. If you're ready to get a tune-up call one of our friendly NATE-Certified Technicians today! (937) 226-9675.
2. Check Your Condenser
Your AC Unit's Condenser works hard to keep you comfortable, especially during heavy rainfall and storms. The condenser is built to last for years, but it is still best to check the condenser on a regular basis. You should also give your condenser a good once over after heavy storms, being sure to remove any leaves, branches, or weeds from around the capacitor so that it can continue to breathe freely.
3. Use a Smart Thermostat
Smart thermostats can be a great investment for many reasons including the fact that they are easy to program and control from your tablet or mobile device. Smart thermostats can also be helpful when it comes to reducing energy use in your home and extending the lifespan of your cooling system, because your AC Unit won't be running at full power the entire day.