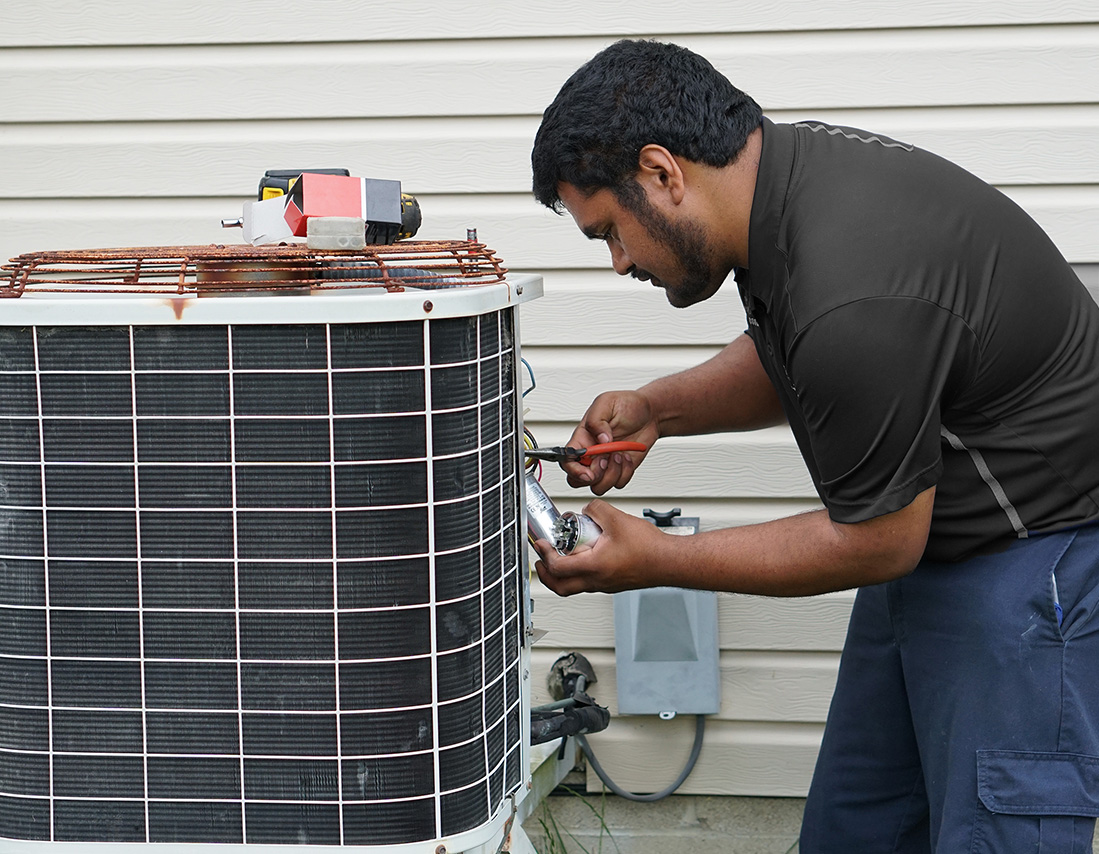 A heat pump is both a heating and cooling system, extracting heat from the air and moving it via an air handler to another location. In the summer months, a heat pump will extract heat from your inside air and relocate it outdoors, essentially cooling your home. In the winter months, a heat pump system will move heat energy from the outside air into your home. The ability to either heat or cool a home, combined with the fact that it moves heat rather than creates heat, makes a heat pump an excellent choice for consumers interested in energy efficiency and versatility.
During a Heat Pump servicing, our maintenance technicians will inspect your air filter to determine if it's dirty or clogged up. If there is enough dirt or dust on your air filter, it will hinder airflow. Heat Pump maintenance inspections usually also include inspecting the motor, your blower, your drain lines, your coils, your operating pressures and temperatures, your return and supply lines, your refrigerant levels, and your connections.
Top 3 Benefits of Heat Pump Maintenance

Maximize Energy Efficiency
Heat pumps use a large coil outside the home and another coil inside the home to facilitate heat transfer for both the heating and cooling of your home. The outside coil is exposed to the elements your-round, and when it gets wet tends to accumulate dirt, debris, and other contaminants. The indoor coil is in or near the indoor air handler unit. Because of condensation, it can attract airborne pollutants like mold, dust, mildew, and pet dander.
Because both of these coils work at their best when they are clean, it's important to keep them free from the collection of dirt and debris. 

Save on Electrical Bills
Enjoy the benefits of increased energy efficiency and lower monthly energy bills. Regular maintenance ensures that your system isn't overworking itself, causing a spike in energy costs. You'll also enjoy the peace of mind knowing your heating system is prepared for the upcoming season, and no unexpected repairs will arise.

Lengthen Your Heat Pumps Lifespan
Routine heat pump maintenance should be a regular part of any home improvement plan. Proper maintenance of your heat pump system helps lengthen the life expectancy of the unit in a variety of ways:
A proper refrigerant charge allows the system to operate like it's designed to. Heat pumps that run low on refrigerant have problems keeping up with heating and cooling needs and this can damage the compressor; Cleaner coil surfaces and new air filters ensure an unobstructed flow of air, avoiding wear and tear on the system.